Web Application
We are hiring Smart PHP Developers.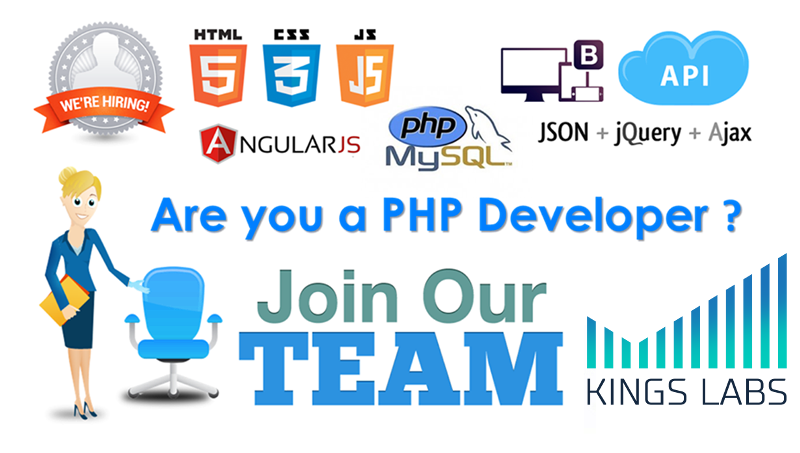 ---
Required
1-4 years of experience
Job Location
Kochi
---
Job Description
Urgently required Sr & Jr PHP developers with 1-4 years experience.
Openings with High Growth Potential. Performing candidates can soon become team lead/manager.
Profiles with experience in developing business applications will be given higher priority (Highlight these project experience in your CV).

Must be proficient in PHP, MySQL, AJAX, JavaScript, JSON.
Exp in any PHP MVC Framework (like CodeIgniter, Yii etc).
Exp. in APIs & Application integration.
Exp in Angular JS, Familiarity in Bootstrap, HTML5, CSS3, Node JS will be good.

---
Desired Skills
Candidate should have:
Good communications and analytic skills.
Willingness to learn new technologies & update themselves.
Must be passionate about work.
Should be ready to work in Cochin.
Candidates who are located outside of Cochin should relocate to Cochin.

---
How to Apply ?
Interested candidates can forward their CV's to jobs@kingslabs.com.
Do mention the opening you apply in subject line.
Do mention the notice period or your availability to join.